There are quite a few spy tools on the market currently, some more heavily promoted than others. They come in a variety of flavors such as SEO spy tools, PPC spy tools, and some which do both.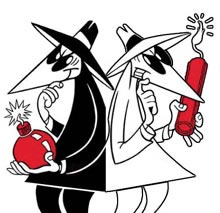 Spy tools can be useful in an SEO and/or a PPC campaign. However, many of these tools essentially try to extrapolate scraped results which can lead to some fairly inaccurate results. Also, these tools occasionally come up with in-house metrics (of which they really don't give you much useful info about how they arrived at the data the present from these "proprietary" metrics") to help try and differentiate their offerings from their competition.
Spy Tool Reviews
There is a much more in-depth review, with examples, up in our members forum. Here, we will do overviews of some of the more popular tools on the market. Specifically, we will be taking a look at:
Value of Spy Tools
The idea that you are missing out on something is a core marketing tactic so even if you are comfortable with one tool chances are you've been tempted to go with another. Keep in mind, from a cost standpoint, the ROI you would take by just finding a few decent keywords to target will likely far outweigh any cost associated with these tools. Your business probably won't collapse if you pick an A minus tool versus an A plus tool and none of these tools are able to make concrete decisions for you. What these tools provide are additional data points for you to consider in your own research.
We hope you'll find these reviews useful. There are perhaps a few other services we missed given how many of these tools as there are and our primary focus on SEO. If these reviews are well received we could also review everything from Quantcast & Alexa right on through to AdGooroo, but we need to know if you would be interested in those types of reviews. If there are any other cool products or services you would like us to review just let us know.
A few disclaimers: some of these services have given us free review accounts, whereas we have paid for some of the others. And some of these tools offer affiliate programs, but all reviews were done without those 2 factors influencing the editorial. Most these reviews do not have affiliate links in them (I think SEM Rush is the only one which does have an affiliate link right now), and Aaron reviewed SEM Rush before they even had a public affiliate program.
Already an SEO Book subscriber?
If you can't make $1,000's from reading those threads then you certainly are not a professional grade SEO.
Compete takes pricing to a different level but has some unique features as well. They have a few different pricing levels but to get all the features you need to dial it up at $499 per month. Although, some of their lower price points may provide good value depending on what you might use them for.
Compete Site Profiles
Here is how compete gets their data.
Here is a screen shot of their site profile overlay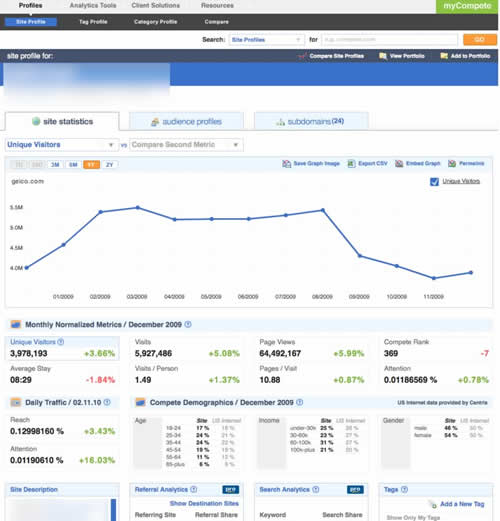 It's kind of like a semi-analytics program view of things which includes:
Unique Visitors
Page Views
Average Stay
Demographic Info
Link through's to Referral and Search Analytics (discussed further down)
Data is available in 7 day, 30 day, 3 month, 6 month, 1 year, and 2 year increments.
The audience profile tab is similar to quantcast and is only available to the verified site owner (unless the site has made it's info public) and the sub-domain tab shows sub-domains associated with the main domain.
Enterprise users, where there is no standard pricing listed…also get access to category profiles and behavioral categories as shown below: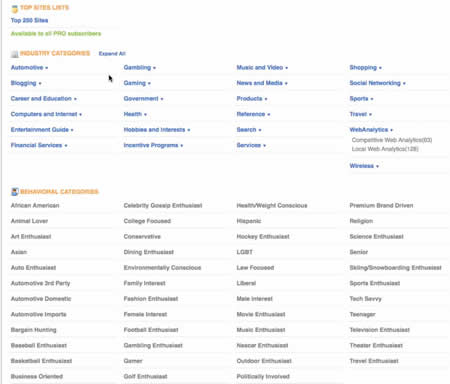 You also get the option to compare up to 5 sites at once in their site profile section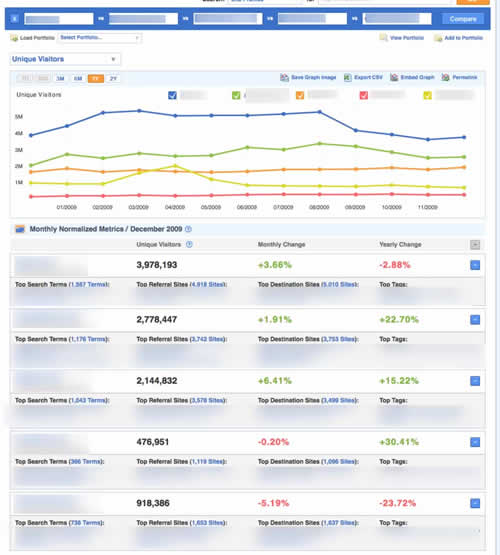 Those are the options in the profiles section. These statistics are far beyond what most traditional spy tools offer and can be very useful when comparing large sites as small sites do not fare very well with these types of data sets (this is not specific to compete, it's pretty much industry wide).
Analytics Tools
Compete's second tool set is the Analytics Tools set. Here you can search through Search Analytics (keywords) and Referral Analytics (sites referring traffic to the domain) as well as a variety of Ranked Lists.
Referral Analytics
This is pretty sweet as you can see what search engines the site's SEO campaign is doing well in, as well as possible advertising opportunities for your site.
It also will show you Destination sites (where users go after landing on the site you are reviewing.)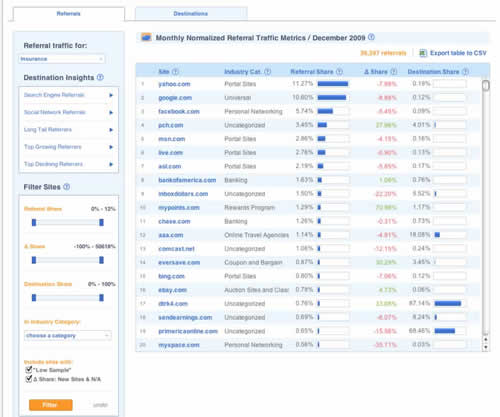 In addition to messing around with some of the filters you can take a peek at historical data (trends, seasonal, etc) as noted here.
Ranked Lists
Compete offers ranked lists which you can filter in a few easy steps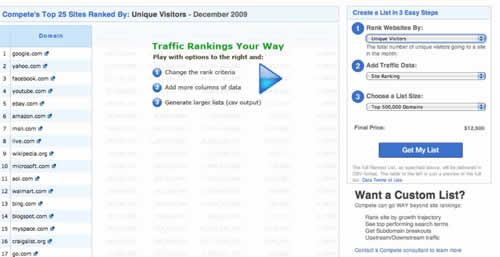 Compete lets you look at ranked lists via 3 steps (one from each)
Step 1 – unique visitors, visits, page views, time spent, monthly attention
Step 2 – site ranking, ranking + unique visitors, ranking + all metrics
Step 3 – top 200, 1,000, 15,000, 100,000, 500,000 domains
Search Analytics
Compete's Search Analytics show keywords referring traffic to a site (or two) with some pretty neat metrics:
Highly Engaging Keywords – Keywords that make up 40% of the total time index and have a referral share greater than 0.01%
High Traffic Keywords – Keywords that make up the top 40% of the search referral share
Paid Keywords
Natural Keywords
Engaging Long Tail Keywords – Keywords making up the bottom 60% of search referral share, with a total time index of > .10
Enthusiast Keywords – Keywords that make up the top 40% of Average Time Index and a Search Referral Share greater than 0.01
Long Tail Keywords
Total Time Index – scale of 100 with 100 being the term where the searcher came from…that made up the highest total time spent on the site for ALL visits.
Average Time Index – scale of 100 with 100 being the term which resulted in the most average time per visit spent on the site.
You can also compare 2 sites like so: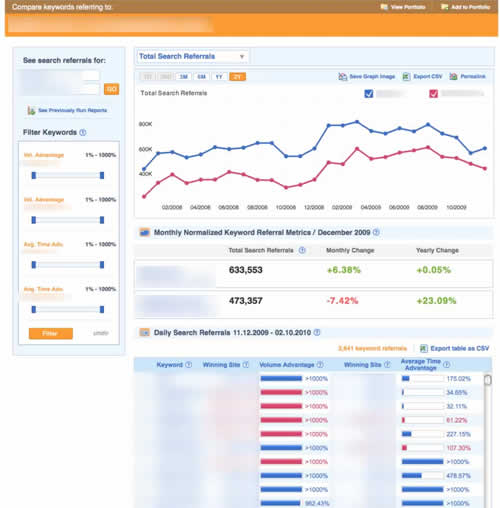 In Closing
The high price point of Compete might scare some users away, but consider that their data is not just relying on scraped Google/Yahoo/Bing results then extrapolated by some internal metrics. Compete is probably more useful to those who "compete" in really competitive markets with some sites as competition, although it can be useful to folks who may be involved in less competitive SERPS with smaller sites as competitors because they can use this data to investigate larger sites in their market, which may not be competitors but could yield helpful industry data.
iSpionage is a newer player in the spy tool market. They are much more PPC oriented than organic SEO oriented. They offer 3 tool sets:
Keyword and Domain Research
Keyword Monitor
PPC Campaign Builder
Keyword and Domain Research
They index the top ten results in Google, Yahoo, and Bing (although I only saw G and Y).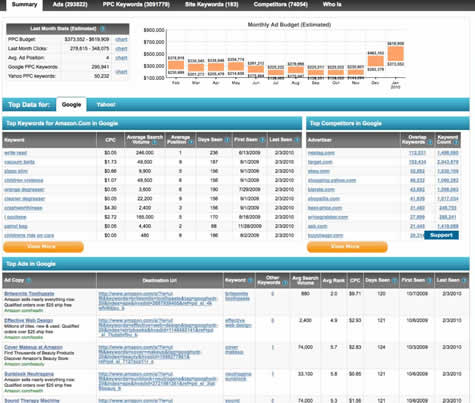 They give you breakdowns of common spy tool elements such as:
Competitors and Overlapping Keywords
Ad Copy
Keyword Specific Ads
CPC
Average Search Volume
Average Rank
And so on..
The one really neat thing they offer is overlapping keywords between Yahoo and Google for a particular domain. I'm not aware of another spy tool that does that.
Their database does not seem to be very deep but they are newer so that's to be expected.
The do show overlapping keywords, total keyword count, and a monthly budget under their competition tab.

Here is another spot where they compare Google and Yahoo, this time for overlapping keywords between sites.

Keyword Monitor
This lets you search by domain name or keyword to get ideas for keywords to add into your campaign. You can also add your own manually after the keyword research option. Keyword Monitor will show you the following for your campaign + competition: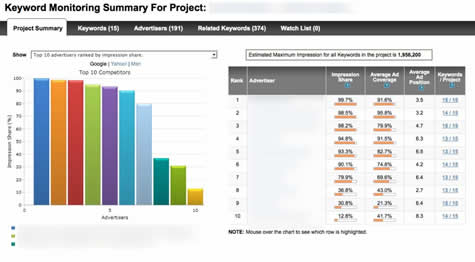 The impression share is not something I've noticed in most other tools and the other 4 metrics can be useful in determining which competitor might be a bit savior in the PPC game. Other metrics they will show you on the keyword level include whether or not the keyword has direct ranking affiliates, the average CPC/search volume, and total advertiser counts in Google, Yahoo, and Bing.
The tool also shows you related keywords you may wish to add to your campaign or just place on your watch list.
PPC Campaign Builder
The campaign builder allows you to search for keywords via a keyword or domain name input. The steps are as follows:
Keyword Clean Up
This is where you can weed out keywords that contain certain words, are duplicates, or have special characters. You can also choose to remove extra spaces if needed.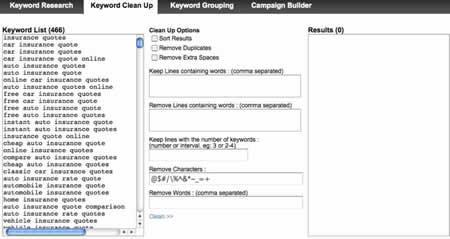 Keyword Grouping
Here you can set up ad groups and campaigns right from within iSpionage. It also gives you the option to create one ad group per keyword if you want to get that granular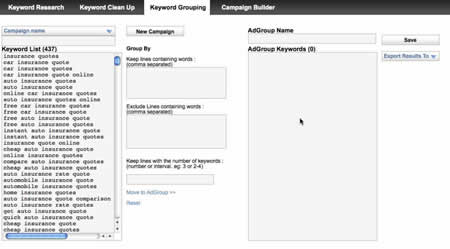 Campaign Builder
Here you can input bid prices for Broad/Phrase/Exact match bids, set up your ads, and input the url. Then you can export for use in Google, Yahoo, or Bing PPC campaigns.
In Closing
iSpionage has some promise and seems to be much more into the PPC market than the SEO market. If that's the case then they are taking on some pretty big players as many of the spy tools offer both PPC and SEO data sets. They have some unique features and it will be interesting to see how they develop their product going forward.

Keyword Spy offers 3 different accounts.
Research
Tracking
Professional
The countries available within a Keyword Spy account are: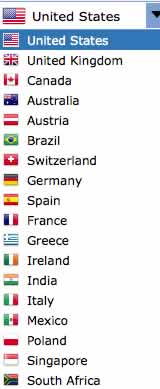 No other competitor really comes close to the breadth of their country offerings.
Keyword Spy Research Account
Keyword Spy's Research account gives you access to the following data
PPC Ads (ad copy, the keyword, estimated search volume, estimated CPC, the position last seen of an ad and it's average position, total days seen/days checked. You can also see the ad url and destination url of the ad in addition to other keywords being bid on for that particular ad, as well as an estimated ROI.
PPC Keywords – showing individual keywords, ROI, search volume, CPC, total profitable ads, affiliate ads on that keyword, days seen, last/first seen
Organic Keywords – showing individual keywords, position in the SERPS, total search results, estimated CPC, and the URL
Competitors in PPC and Organic results.
Sub-domains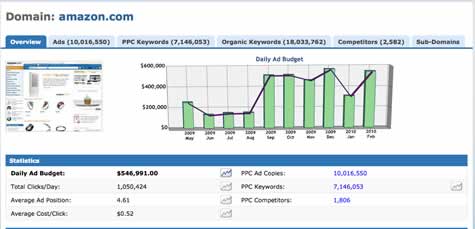 The research portion does *not* include organic or PPC overlap coverage, which kind of stinks especially when you consider the price point they charge.
You get access to their Top 1000 sites and keyword reports which can be previewed here.
You can search by keyword as well. A Keyword search will show you:
PPC Ad Copies with Keyword in them
Up to 1000 related Keywords
Misspelled Keywords
PPC Competitors
Organic Competitors

You can filter with these metrics but you can only apply 1 filter to the results at a time. Which can be bothersome if you are doing large scale research as they limit the exported data to 50,000 keywords.
Research Account Metrics
ROI- they compute this as (Days Seen*Percentage Seen/Number of Days Seen since Last Seen). Below is a screen shot of their formula. Again, this is based on the assumption that the PPC advertiser is shrewd and on top of things. I don't particularly care for this metric. ROI to person A can be much different than ROI to person B for a variety of reasons.

First/Last Seen- Last seen is the last day KS saw the ad (they scan daily) and First Seen shows the first day KS saw the ad (I believe its back to August of 09 as of this writing).
Profitable Ads – Ads that are profitable based on their internal metrics (like ROI and such) out of total number of ads.
Affiliate Ads – Ads that are affiliate ads (based on destination url) out of total ads found.
Screen shot of PPC keyword tab showing the above mentioned metrics:

Keyword Spy's Tracking Account
The Tracking account option gives you real time tracking in Google, Yahoo, and Bing for your PPC and Organic campaigns. This can be useful in checking out your coverage and competition across all three engines. You can also benchmark your data with the competition's scraped data.
Of course, the question is do YOU want your campaigns being monitored by a spy tool that makes its money but showing advertisers their competition's organic and PPC data??
You can read about more of their tracking/alert/coverage type options here, but outside of tracking and coverage you get:
Landing Page Intelligence – shows current landing page, ad copy, and destination URL for a particular landing page.

Organic and PPC overlap data (only between 2 sites) and quite frankly, this is much more research than tracking and should really be included in the research account IMO.
Benchmarking in PPC/Organic Listings (below is a screen shot of the organic one, they are fairly similar)
So the tracking account is really more for tracking your campaigns across the 3 big PPC engines with some nifty benchmarking and gap analysis features but I don't see it as being overly useful for smaller PPC advertisers, although the coverage options might be a good fit for those in competitive markets across Google, Yahoo, and Bing. In general, Spy Tools aren't all that great at looking into smaller sites and markets simply because the resources required to be accurate with somewhat sparse data would be overkill and far to costly. This is why I do not really feel the tracking option is going to be a good fit outside of pretty big PPC advertisers.
Professional Account
The Pro account combines the Research and Tracking account features (up's the overall trackable keywords, export limit, and query limit) plus gives you access to a couple new features:
Affiliate Intelligence
Affiliate Reports
Affiliate Intelligence
This tool gives you access to look at products and ads being used by 132 affiliate networks.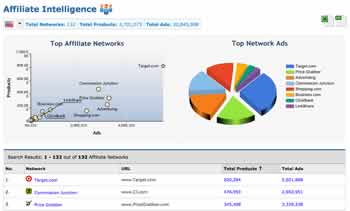 You can click through on any network and be shown their offers by URL with searchable affiliate ads for those products.
Affiliate Reports gives you access to big players in the affiliate marketing space such as CJ, LinkShare, Clickbank, ShareAsale, etc. Here you can access top affiliate products and top affiliates by product id and affiliate id respectively. You can also use affiliate product and affiliates id's to search in the destination URL field to try and find additional products/ads they may be promoting.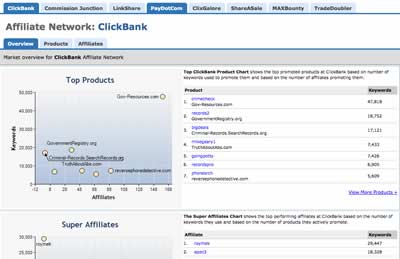 Keyword Spy mentions something about "Anti-cloaking" technology but they do not elaborate on it. However, color me skeptical that these affiliate options are able to uncover properly cloaked links by top affiliates. So while this may be good for help in looking at potential affiliate products, as well as finding affiliates who do not cloak their links, I'm really not overly impressed with these features but they can be somewhat useful when first starting out.
In Closing
Keyword Spy is a feature rich membership and they have a deep database. For me, if I had to pick just one tool I would opt for either SemRush or SpyFu as both supply solid PPC/SEO competitive intel at a much more reasonable price. Although, if I were a serious PPC player their tracking account might be quite nice (still have reservations about giving a spy tool company my campaign data though.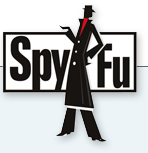 SpyFu is one of the more feature rich tools, but probably has the least attractive interface out there. SpyFu offers SEO and PPC spy tool options along with their own keyword research tool.
The SpyFu toolset covers US and UK markets.
SpyFu's toolset includes:
SpyFu Kombat
SpyFu Classic
Keyword Ad History
Domain Ad History
Keyword Smart Search
A Variety of Top 100 Lists
SpyFu Kombat
With SpyFu Kombat you can look at overlapping and site specific keywords for up to 3 websites. For the PPC version you can also see a chart which goes back over a period of a few years showing the overall amount of keywords being bid on by all three sites. You can also rollover the chart to see keywords specific to just 2 of the sites if you feel the 3rd site may not be doing as good a job (or vice versa) as 2 of the other sites. It will also show you the PPC budgets of the sites as well as the number of organic keywords ranking in the top 50 results for said keyword.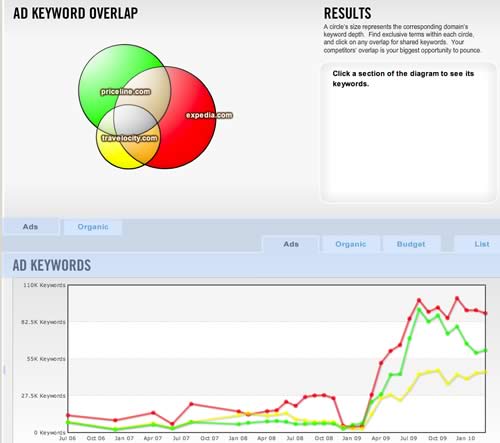 When you click on an area of the circle chart it will show you the keywords in whatever bucket you click, to the right of the chart. You can view and download those keywords for your own use. As you can see I am on the ads tab but the options are similar when you click on the organic tab (on the top box, the organic one on the bottom shows you total organic keywords).
Switching between the organic tab and the ppc tab (as well as the overall # of organic keywords + PPC ad budget should also give you an idea of which of the bigger sites are more into the PPC or SEO side of things which can be a good barometer to look at if you happen to be concentrating on one area over the other.
SpyFu Classic
SpyFu Classic is the "flagship" section so to speak. This is where you enter one domain on the home page and are presented with a TON of data including:
Daily AdWords PPC Budget
Links through to SpyFu Kombat
Average Position of Ads vs # of Advertisers
Estimated Value of Organic Traffic (estimated traffic with a variable of CPC factored in)
Paid Traffic Compared with Organic Traffic Estimates
Subdomains (useful for looking at how a site might break out parts of the main domain, perhaps a good spot to look for niche keywords???)
Top Ten Paid Keywords w/ Keyword Ad History (links through to full Keyword Ad History tool)
Total Paid Keywords
Total Organic Keywords
PPC Competitors (with a link to overlapping keywords)
Organic Competitors (with a link to overlapping keywords)
Category
In addition to searching for a domain SpyFu let's you search by keyword as well, as shown below: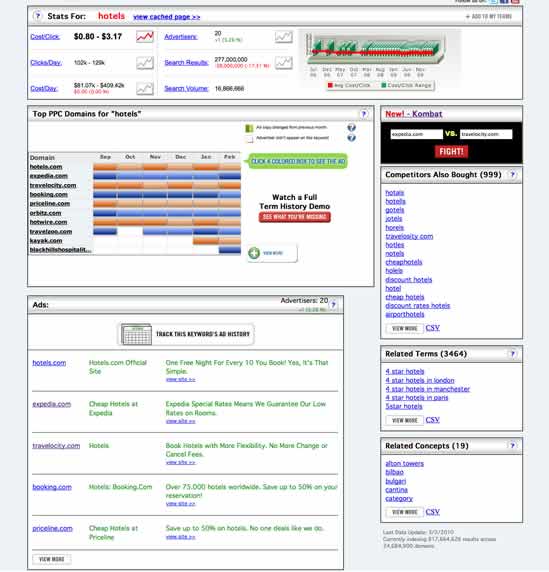 The data here can be useful, as you can see the:
Estimated PPC, Clicks, Cost Per Day, Total Advertisers…all with trend data
Top Ten Domains Advertising on the Keyword, with Domain Ad History
Additional Keywords Purchased By Relevant Domains
PPC Ad Copy with a Link to Keyword Ad History
Top Ten Organic Results with Title, Meta Description
Related Terms
Related Concepts (based on semantic relationships)
Categories
Keyword Ad History
Keyword Ad History will show you, via color coded bars, how often the keyword appeared in a domain's PPC campaign along with any changes in the ad copy (all of which can be exported to excel). It shows a year's worth of data up front and goes back to 2006 via the Bonus History Button.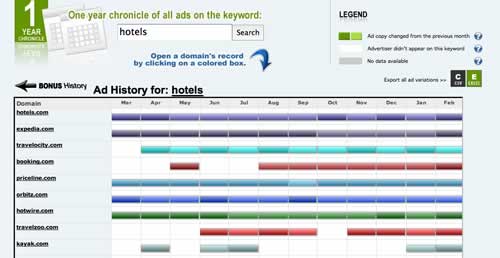 So it's pretty straightforward, which is what I like about SpyFu Tools. No over-reliance on "in-house metrics" it's just "here's the ad history of the keyword", plain and simple. Typically, if you see a keyword being advertised on by a good PPC advertiser consistent then you can look to apply that ad copy technique to a niche market of that larger keyword. If I were advertising for "hotels in Oklahoma" I might pay attention to what ad copy has been successful, over time, for that main/core keyword "hotels".
Domain Ad History
Domain Ad History is similar to Keyword Ad History except it shows the keyword history of a particular domain:


This tool is useful in looking at keywords that have been successful for your competitors (or larger players in your niche) and which ones they tried and abandoned (which could be ones for you to avoid out of the gate). All of this assumes the domain you are researching is competent PPC advertiser.
Keyword Smart Search
The Keyword Smart Search tool in SpyFu uses semantic word relationships, publicly available keyword data, and PPC campaign data to return a list of keywords related to the keyword(s) (up to 10) you enter. As you can see, you can also filter by CPC, search volume, and you can also exclude keywords: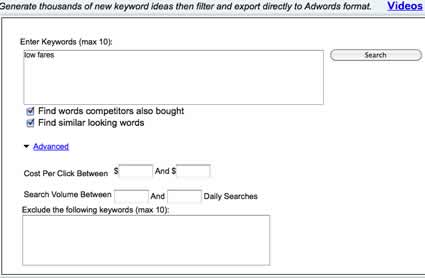 Here is a screen shot of the results page for Keyword Smart Search:

For me, I prefer to use the PPC keywords and the Organic keywords found in either SpyFu Classic or SpyFu Kombat. I like to use other tools for pure keyword research (Google tools, Microsoft Ad Center Intelligence, and Wordtracker). Primarily, I feel SpyFu is at its best when used as a competitive research tool versus a keyword research tool.
A Variety of Top 100 Lists
They have a list of all there Top 100 Lists here.
In Closing…
I find their tools pretty useful for competitive research. I don't use their Keyword Smart Search much as described above but the amount of data that they give (in a straightforward fashion) at the price points they give is quite a nice combination. SpyFu makes its way into my toolbox on just about every project.