Over the course of 2009, a consistent theme that Google has been involved with is that of speed. In announcement after announcement, Google has talked about the importance of speed on the web, and how the company wants to do everything it can to make the web a faster place. Has it occurred to you that how fast your page loads may have a direct effect on how your site ranks in Google?
Don't worry, it hasn't had an impact…yet. In an interview with WebProNews, Google's Matt Cutts told us that speed may soon be a ranking factor.
"Historically, we haven't had to use it in our search rankings, but a lot of people within Google think that the web should be fast," says Cutts. "It should be a good experience, and so it's sort of fair to say that if you're a fast site, maybe you should get a little bit of a bonus. If you really have an awfully slow site, then maybe users don't want that as much."
"I think a lot of people in 2010 are going to be thinking more about 'how do I have my site be fast,' how do I have it be rich without writing a bunch of custom javascript?'" he says.
I would say that based on Matt's comments it is probably fair to assume that Google will indeed begin taking page speed into consideration as a ranking factor, although he doesn't come right out and say that they definitely will. That said, making your site faster is going to benefit your users and possibly your sales anyway, so you might as well start optimizing it for speed anyway. Then if Google really does start using this as a ranking factor, you will have a head start on boosting your rankings.
Google has generally been pretty good at providing webmasters with tools they can use to help optimize their sites and potentially boost rankings and conversions. Google recently announced a Site Speed site, which provides webmasters with even more resources specifically aimed at speeding up their pages. Some of these, such as Page Speed and Closure tools come from Google itself. But there are a number of tools Google points you to from other developers as well.
If you're serious about wanting your site to perform better in search engines, and you haven't given much thought to load times and such, it's time to readjust your way of thinking. Caffeine increases the speed at which Google can index content. Wouldn't it make sense if your site helped the process along?
Nowadays it is a norm to run more than one blogs as well as Tweet to more than one Twitter accounts. By doing this we are able to separate personal life from our business and professional updates, as we manage various projects on absolutely different topics.
For example, would my SEJ readers be interested in what I am doing tonight? My close friends would probably be but my SEO contacts – I personally doubt they will. So why would I bother them with that information. Therefore if you look at my @seosmarty account, you will seldom see any personal updates because I don't like to trash my followers' dashboards. If I need to say something personal, I will do that using my other personal account.
So I am sure many people would be willing to know how to Tweet to multiple accounts:
A web-based tool that makes it easy to update to multiple Twitter accounts:
Register at the site;
Set up your Twitter accounts: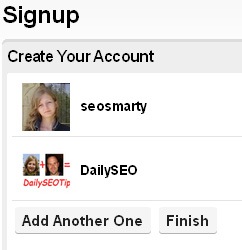 Confirm your account by clicking the verification link in the email message;
Start Tweeting:
At the dashboard you will be able to see your whole Twitter stream (each profile in a separate tab):
Home feed;
Mentions / replies;
Direct messages;
Pending Tweets.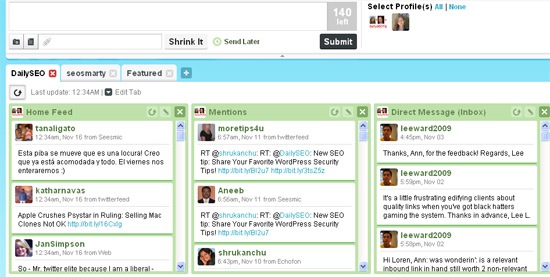 To send a tweet, you can either update it from the website, or use a bookmarklet:
When on a page you want to Tweet, click the bookmarklet;
A pop-up will appear with retrieved page title and shortened URL;
Select the profiles to send a Tweet to;
Or click Send Later to set a future time to send your tweet.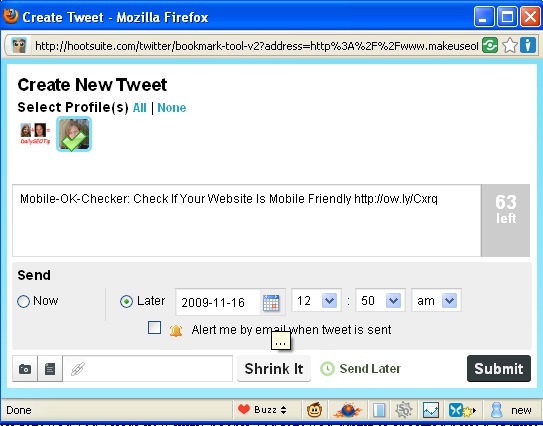 Additional features:
Account Stats: View all the activity of each of your Twitter accounts during the set period of time.;
Personalized Layout: Customize the layout just the way you want it with tabs and columns.
Create Groups: Create customizable columns for your friends, groups or interests.
Quick Search: Search terms to find out what people are saying about them right now.
Auto Refresh: Keep on top of new tweets with the auto refresh and optional notification.
Tweet3 is another Twitter web-based app that has a couple of nifty features. The process is quick and smooth:
Start by creating your profile – immediately after that you will be offered to add your Twitter account, watch your brand mentions and integrate with Facebook: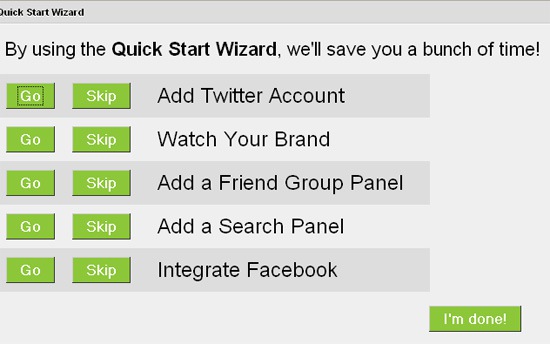 After you are done setting up your Twitter accounts, go to your Tweet3 dashboard which looks pretty neat:
Switch between twitter accounts;
Add / remove panels from the dashboard (you can add search panels for example);
Send an update to any of your accounts: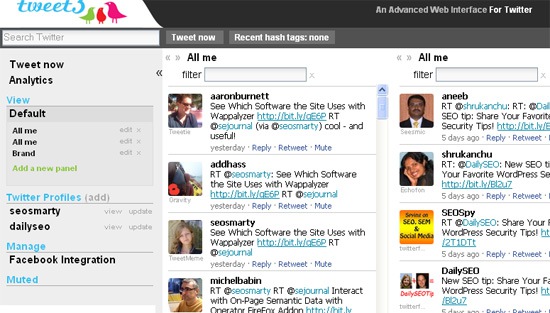 Additional features:
Watch your brand mentions;
Use analytics tool that analyzes your Followers vs. Following statistics.
Seesmic is a desktop Twitter app I personally use most of all. It runs on Adobe Air and offers a few advanced options to manage multiple Twitter accounts.
Start by installing the tool and adding all your Twitter accounts:. For each Twitter account added you will be able to set:
Retweet format;
Notifications (these are tiny pop-ups notifying you of new updates);
Twitter API usage share (depends on how actively you are going to update the selected account);
Auto-refreshing priorities.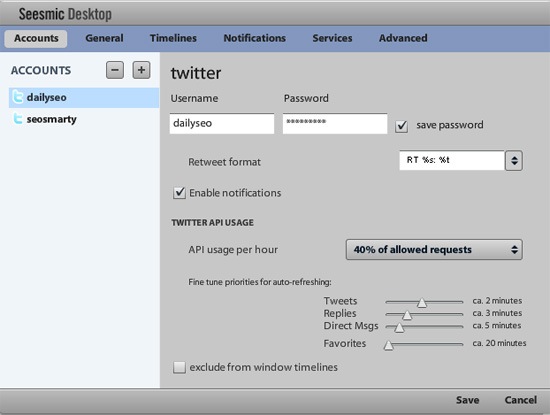 The dashboard consists of numerous panels (you can add / delete any of them) combining all your Twitter accounts. For posting select one or more Twitter accounts to send an update to: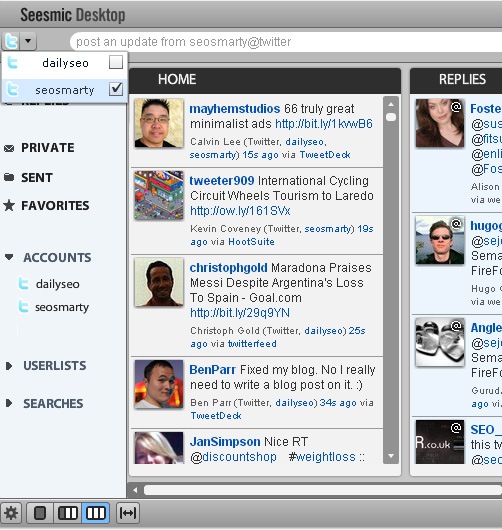 Additional features:
Set Twitter search notifications (perfect for tracking brand mentions);
Create userlists (for more effective following).
An alternative one: twhirl
Digsby (Windows only)
I had already looked at this awesome tool in my post on making the most of Google Talk. It allows to set up as many Twitter accounts as you want and they will all be managed from one window.
You won't be able to see the whole Twitter streamline of each but you will be able:
To receive update notifications;
Send update to one or more Twitter accounts.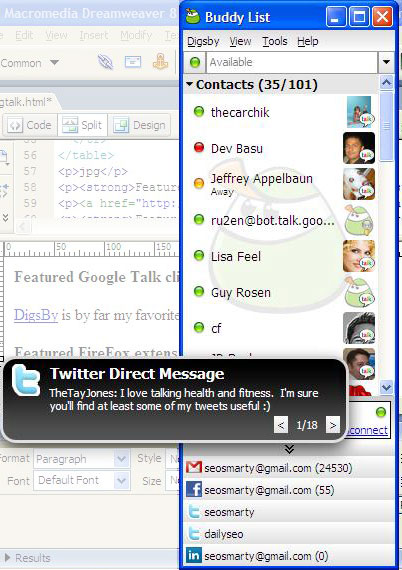 Additional features:
Aggregate all your social activity: unite all your IMs (GTalk, AIM, Yahoo! Messenger, Facebook chat), Email notifications (Gmail, Yahoo, Hotmail, AOL mail), Social networks (Twitter, Facebook, LinkedIn, MySpace).
For each social network add as many accounts as you want;
Manage multiple conversations with tabbed conversation windows;
Set your Facebook and LinkedIn status right from Digsby;
Synchronize your settings and accounts between computers.
Check out the SEO Tools guide at Search Engine Journal.
4 Tools to Tweet to Multiple Twitter Accounts
Agency side, it's not unusual to find yourself going up against a fellow SEO agency for new business. What factors will ensure you capture this new business opportunity and leave your competing agency in the metaphorical dust?
I recently read The Perfect Pitch by Jon Steel of WPP, and it's got me thinking about how I sell my agency when presenting to potential clients. Namely, that it's of the utmost importance to go in understanding (to whatever degree possible) what a client is looking for and customize your pitch to fit their needs.
Below are some of Steele's main points:
Practice.
Have at least 2 practice pitches before presenting to a new business opportunity. Steel even advocates writing scripts so Bobby knows he's talking about the agency's blue chip PPC experience while Amanda is confident in detailing Social Media opportunities. By practicing, everyone knows what to expect when the actual pitch occurs and no one will be re-hashing points others have already made.
Many Slides Does Not a Presentation Make.
In the past, I've worked at agencies with a long standard "This is How SEO works" presentation chalk-a-block full of text and ripped SEOmoz images. While it's great to prove to the client "we know lots of stuff " to follow that with "And now, we will have an SEO brain dump on you to prove we know lots of stuff" isn't going to leave new business opportunity gasping for more (probably just overwhelmed).
Steel wants to make sure the presenter is the focus of the presentation, not the slides. He argues that in PowerPoint presentations the "bullet point dilutes thought," and suggests the majority of text be deleted in favor of images. This way, the presenter is the focus of attention and not the words behind them, which appear by tacky transitions and are often accompanied by cheesy Clip Art.
Owning the Room.
Don't be afraid to move furniture and reconstruct rooms to fit your needs. If the projection screen points to an awkward wall, ask to have it repositioned, if the chairs are uncomfortable ask for different ones. Organising the chairs "in the round" encourages audience participation while the typical speaker standing in front of the audience is less engaging.
Best Sellers May Not be the Most Senior People
Office politics often dictate who should meet and present to a client, but you may be loosing out on some of the best talent in your agency/department! Have the presentation given by those who present best, who appear naturally confident in front of an audience, who deal well under pressure and can think on their feet when the questions start rolling in. This may be a mid level PPC expert, and not the assumed Senior Search Marketing Consultant.
Encouraging and handling questions.
Make a list of popular questions clients ask with correct answers ("Our competitors have a blog, do we need one?" "If we had to pick PPC or SEO…"). Whether you prefer to handle questions at the end of a presentation or encourage them to be asked as they pop into clients heads – be careful not to go off on too far a tangent. This can kill the sense of direction of an otherwise strong pitch.
Thank You.
The next day, be sure to send a card or make a phone call which reiterates your agency's core message from the day before. This is also an opportunity to address any concerns the client raised which perhaps couldn't be answered during the pitch.
Ultimately, there are a million ways to customize a pitch for a client which this post barely skims the surface of. A pitch, like any good content, is about holding a conversation with the receiving end, not talking them to death with how well qualified your agency is.
Please let SEJ know what your tips are on how to improve an SEO pitch? If you're an SEO client, what was it about your SEO agency that really grabbed your attention? Looking forward to your comments!
Check out the SEO Tools guide at Search Engine Journal.
Two down, two to go for the Microsoft-Yahoo search ads deal. Both the Canadian and Australiation anti-trust authorities have just cleared the controversial deal.  In a joint announced published by SeattlePI blog, Yahoo and Microsoft jointly stated that:
"Microsoft and Yahoo! have been notified that Australian and Canadian authorities have separately concluded their reviews and have no objections to our proposed search agreement."
The two companies also said that their deal will pave the way for a more competitive marketplace for the benefit of consumers, advertisers, publishers, and hope that the deal will be closed by 2010.
The deal did not find any problem passing through the scrutiny of the Australian Competition and Consumer Commission since Microsoft and Yahoo already have an existing partnership in Australia. In fact, the ACCC opined that the deal would make both Microsoft and Yahoo a worthy competitor to Google.
Meanwhile, the Canadian Competition Bureau has also finished reviewing the search ad deal although they have not yet issued any public statement approving it.
With that, the deal now awaits the approval of both the European and American anti-trust bodies, which in the opinion of many analysts will give Microsoft and Yahoo a hard time.
Check out the SEO Tools guide at Search Engine Journal.
Canadian, Australian Authorities Clear Microsoft/Yahoo Deal
While Google was busy working with more search ads formats, Yahoo on the other hand is busy improving  their Search Assist feature. So, today Yahoo has just rolled out several new features aimed at helping searchers find the right information on various Yahoo online properties including Yahoo! News, Yahoo! Sports and Yahoo! Finance.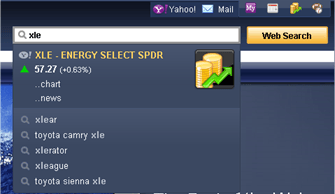 The new Search Assist features make use of the Search Assist layer in displaying relevant links related to a search query. This could either be stock quotes or stock charts when searching for finance-related searches, game schedules and career achievements when searching for athlete's name or travel-related links when searching for travel-related information.
Another new Search Assist feature is the ability to search for a particular Yahoo property on the Yahoo Search box itself while you're using a particular Yahoo online property, say Yahoo! Finance. You can just type in email on the search box to get you to your Yahoo Mail Inbox.
And best new feature that was rolled out has something to do with smart detection system. So, when you type in a particular query on the search box, Search Assist will give you links to either Yahoo! Image Search or Yahoo! News Search. You can click on these links to get you to the right information – that is whether you are looking for images or news items.
Check out the SEO Tools guide at Search Engine Journal.
Yahoo Improves its Search Assist Feature